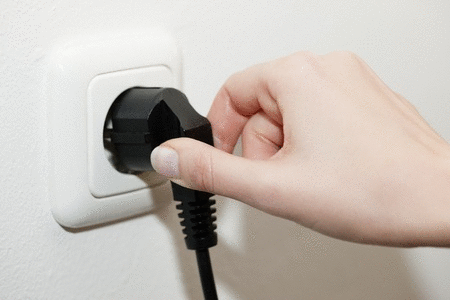 My husband and I both work for ourselves, so the majority of the vacations we've taken together have started off by searching for hotels or rental houses with Wi-Fi.
On the trip we took to Mexico three months after our first baby was born, my husband worked several hours a day in the hotel room for a project that was later canceled.
It was not a great getaway.
I know I don't need to tell you how important it is to unplug. Even the Huffington Post has the message having recently developed a software program that automatically deletes or archives emails employees receive while they are enjoying a holiday.
Read More: 11 Ways to Avoid a Vacation Slack Attack
Most of us don't have such software to help digitally detox time away from the office. So for the rest of us, here are 11 ways to truly, madly, deeply unplug when you're on vacation:
Resist photo-documenting every moment. Cellphones with cameras are incredibly handy. But when you bring your cellphone with you everywhere you go, you're also bringing a lot of temptation to stay chained to your inbox. You really don't need to capture every single memory. In fact, sometimes the desire to capture the memory kills it because you are fumbling to unlock your phone.
Delegate photography duties. If you really don't want to sacrifice photographic evidence of the fun you have, invite an artistic friend or family member who is traveling with you to do the snaps. They may not get the same shots you'd take but you'll have a record of your trip.
Leave chargers at home. Charge your phone or computer up fully before you leave, but leave your wires behind, automatically forcing you to self-regulate your digital habit.
Visit Wi-Fi dead zones. There is a reason Block Island is our summer vacation spot of choice—it is easy to get to but also very off the grid. The only reliable Wi-Fi is at the local library. Seek out such places. They still exist.
Turn off notifications. Those beeps, bleeps and ring tones are often too tempting to pass up and new research shows they are intrusive even when you don't check to see what they are. It's fairly easy to turn off all notifications on most devices.
 Turn off cellular data. This dramatic action is sort of like banishing junk food from your life all at once. It cuts you off from everything — posting to social, checking email, texting and even streaming music. Unless you have Wi-Fi. In which case, show some restraint.
Set out-of-office messages. Tell people to contact you once you're back. Resist the urge to say you'll respond as soon as you can. If it's truly important, they'll reach out again.
Prioritize downtime. Even on vacation you can get sucked into a go-go-go mentality. Basta! Make a promise to yourself that for 20 minutes every day you'll do your favorite form of nothing—hang out in the hammock, read in bed or enjoy a 5 minute AcaciaTV meditation practice. Allowing your brain periods of rest will help coax it out of its habitual craving for stimulation.
Give zero f*cks. Pardon my potty mouth but this is your vacation! You've got better (and more fun) things to do than worry about who is expecting to hear from you.
Plan excursions to soothing spots. On our recent trip to Block Island, we skipped the beach one day and visited a labyrinth instead. We loved it! And it provided a nice still-point in the midst of picking visitors up at the ferry and going out to eat. If you go to Las Vegas, get out into the desert for a couple hours. If you visit a city, duck into a church. Silence and solitude help you decompress.
Trust your focus. The more fully you can immerse yourself in whatever it is you're doing on vacation—whether it's sweeping the sandy floors of your beach house, ordering a meal at a restaurant, or wandering into a different neighborhood the less inclined your mind will be to wander to stress-producing subjects. Getting "away from it all" will seep into your bones and provide more lasting relaxation.
If you've got other suggestions for completely unplugging while on vacation post them to Facebook.